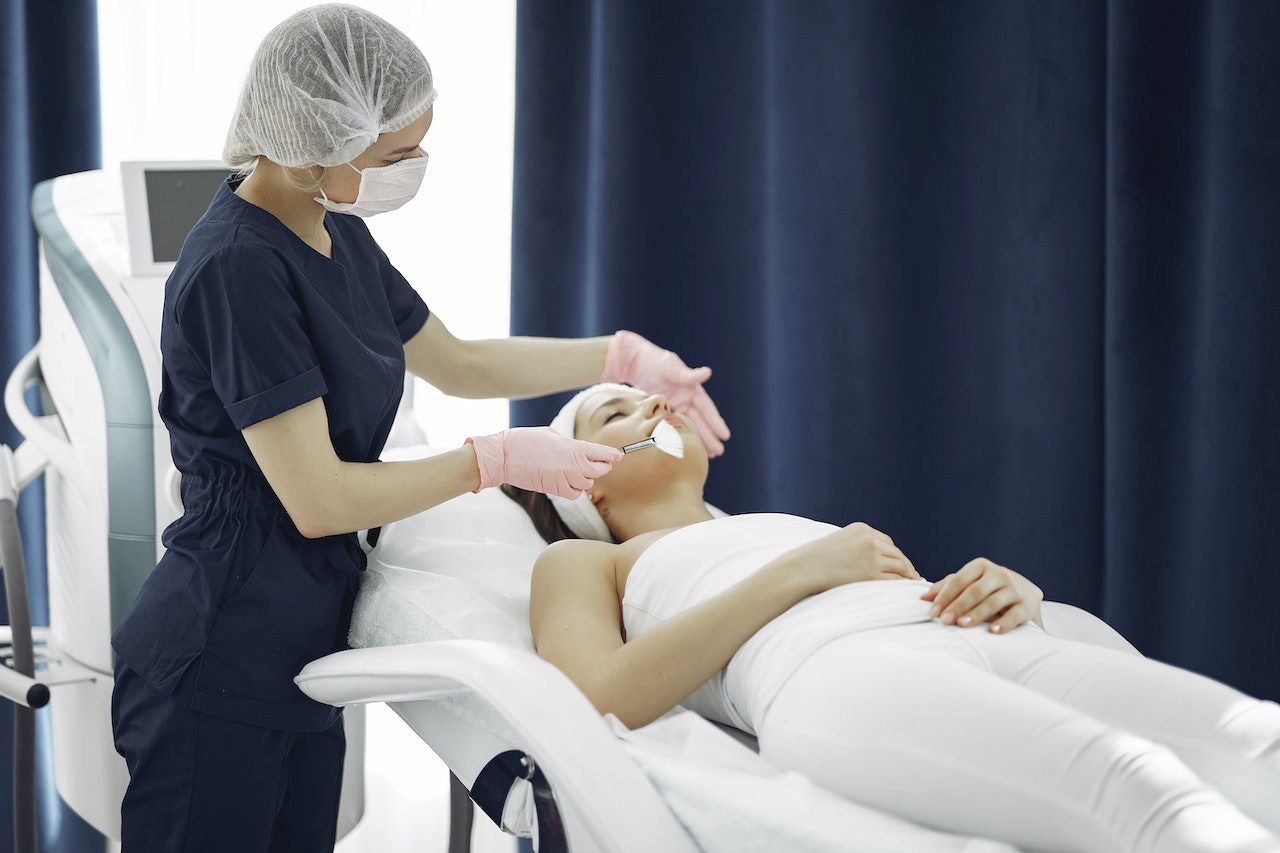 Sep 16, 2022
Rejuvenate Your Sun Damaged Skin with GentleMax PRO™ Laser Treatment
Over the years, our skin has taken a beating from the sun and the elements. Even if you use skin protection when you're outside, there is still a toll exacted by the radiant waves. Luckily, many treatment options work wonders for repairing and re-growing less-than-healthy skin. Let's examine how GentleMax PRO™ Laser treatments can help rejuvenate sun-damaged skin.
GentleMax PRO™ Laser Is Versatile: What Can It Treat?
The GentleMax PRO™ integrated aesthetic treatment system is a state-of-the-art skin and body hair modification tool. Its patented design allows for multiple applications and procedures.
Patients and technicians can achieve several specialized beauty refinements by utilizing laser technology. The leading cosmetic laser and beauty spa in NY, Bared Monkey offers this treatment.
Hair Removal
GentleMax™ is a dual wavelength laser hair removal platform. This machine can destroy hair follicles under the skin while leaving the skin exterior virtually undamaged.
Laser hair removal uses focused wavelengths of light in pulses to heat the hair follicle to a temperature at which it dies. These small pulses of light often cover a small skin area, so the process can take longer to complete.
With the GentleMax™, technicians can choose between various laser spot sizes for different applications. They can also choose between multiple wavelengths and operate in a dual-wavelength application.
Additionally, the GentleMax™ system offers two different post-laser pulse cooling methods designed to provide greater protection to your epidermal layer of skin.
This means greater skin and hair treatment options, improved hair removal abilities, and faster overall results.
Benign Keratosis and Sun Spots Removal
In addition to removing unwanted hair, the GentleMax PRO™ system can also treat and manage sun damage on skin surfaces. Patients are discovering new ways to treat sun spots or benign keratosis by using similar laser wavelengths for hair removal.
When patients notice darker spots on their skin around the more sun-exposed areas, they may feel this is simply an untreatable aspect of growing old. With laser technology, these dark blemishes can be blasted away. After a recovery period, most patients report clearer and more evenly colored skin.
It's advised to consider such procedures when you approach the fall and winter months since sun exposure will most likely be minimized.
Color Correction and Skin Rejuvenation
Some patients may also be dealing with skin discoloration caused by the sun but not identified as the above-listed conditions. Red splotches or missing pigmentation can also occur from sun overexposure and improve with GentleMax laser treatments.
Varicose Vein Treatment
GentleMax™ laser treatments have also proven to be effective in lessening the appearance of varicose veins. Although not normally dangerous, varicose veins can be unsightly and unsettling for many patients.
The varicose veins are blasted by the high-energy light using specific laser wavelengths, which form scar tissue in the veins. Eventually, the veins cease to work and begin to disappear or recede below layers of skin. These treatments often work best on the smaller varicose vein sizes.
Treat Facial Redness
Laser therapy can also treat certain forms of Rosacea or facial redness caused by broken blood vessels. Laser waves destroy the superficial blood vessels like the treatment for varicose veins.
Since these vessels are often small veins or capillaries at the skin's surface, the treatments work well to eliminate a ruddy complexion. The size and location of the veins can also lead to greater swelling, bruising, or initial discoloration of the skin post-treatment.
Skin Tightening
Patients looking to draw their skin tighter in certain areas to reduce wrinkles may also benefit from laser treatments. The lasers reduce sagging by heating certain tissue in the skin, which, in turn, stimulates new cellular growth and tightens older, more damaged cellular tissue and collagen. Most patients experience much less swelling or discomfort than other laser treatments.
What Can You Expect from the Treatment?
Depending on the type of procedure and the extent of the laser therapy used, there will be different levels of recovery time needed. Certain treatments use more powerful wavelengths of lasers.
For a skin rejuvenation treatment, you'll be experiencing moderate amounts of laser light pulses. The focus of skin tightening is to affect the collagen under the skin and the skin cells.
If looking to reduce redness, spider veining, broken blood vessels, and rosacea, a similar amount of laser light pulses will be applied. These skin rejuvenation procedures will need to be performed over a series of visits and require adequate resting between treatments.
Why Is GentleMax PRO™ Laser Better Than Other Technology?
The GentleMax PRO™ machine offers a few features which set it apart from other laser treatment systems.
Suitable for All Skin Types
This laser machine offers dual wavelengths of laser light; NdYAG Fluence and Alexandrite Fluence. Fluency refers to the power of each laser type. With two laser types to choose from and both offering a wide range of frequency options, a wider range of patient procedures can be performed.
Permanent hair removal requires a more powerful wavelength to eliminate the follicles truly. For other procedures, though, less power or a differing frequency range is more effective.
Skin and hair types can greatly alter the results of laser light pulse therapy. For this reason, variations in laser wavelengths offer something for all skin types.
Performance and Speed
Another advantage of the GentleMax PRO™ is its variation in laser spot sizes. Spot sizes refer to the size of the spot the laser beam makes when hitting a surface.
With greater spot sizes, technicians can work at varying speeds and levels of precision. Some treatments require a very precise spot, whereas other areas may only require a large, broad brush stroke. GentleMax PRO™'s variations make working with clients a more focused and specific practice.
Better Clearance
The GentleMax PRO™ also features a specialized user interface and touchscreen. This grouping or parameters and adjustments can be set initially based on a customer profile or continually refined based on different needs.
When you can pinpoint the best settings for patients, there is a higher success rate for skin blemish clearances.
No Gel
GentleMax™, as its name implies, is also keen on customer comfort. Many previous laser treatment options used gels or creams to cool the patient's skin after the procedure.
Now, with this new system, technicians and patients are offered two options for reducing temperature and dermal laser damage caused by the laser blasts.
Choose the Dynamic Cooling Device, which uses cryogen to cool, or the Air Cooling Compatible handpiece. Both features help to cool the skin quickly between the laser light pulses.
How Many Treatments Are Required?
When considering a skin rejuvenation process, there are lots of choices. Some treatments focus more on outer layering and aren't as invasive as mud masks or anti-aging creams. These treatments can be continually applied and considered part of a regular skin care regiment.
With laser skin rejuvenation, most customers want to make more noticeable and lasting changes. Skin tightening and removing spider veins, sunspots, or sun discoloration requires the amount of power a laser treatment offers.
Since these treatments are of higher-powered laser pulses, it's necessary to rest your skin between treatments. Depending on the levels of skin rejuvenation you'd like to attempt, you may need 6-8 treatments, with 4-6 week breaks, in between.
If the skin rejuvenation is less widespread or doesn't use as much power as, say, laser pulsing the collagen, you may be able to reduce treatments and wait times. Either way, follow the advice of a trained professional or physician.
Are the Results Permanent?
Depending on the laser therapy being performed, some procedures are more permanent than others. For instance, laser therapy can permanently remove the scar tissue if a patient is looking to remove scarring.
Depending on body location and skin/hair types, certain hair removal can be virtually permanent, with mild laser therapy management throughout the years. Overall, though, laser hair removal will stop hair follicles from growing permanently.
For treating the signs of aging, a steady routine of laser light therapy can reduce the signs of aging, like wrinkles and saggy skin. Still, no treatment will stop the sands of time from shifting.
Where is This Equipment Available?
Whether looking for a small touch-up for a skin blemish, or more wide-ranging skin rejuvenation, the GentleMax Pro™ is the go-to machine. Bared Monkey, a top-rated cosmetic laser and beauty spa in NY, offers these machines for patients in their salons.
With locations at Grand Central and Penn Station, these beauty experts will surely have what you need. Text (551)230-6569 or email CARE@BaredMonkey.com for assistance in booking or rescheduling appointments.